Winter Wedding Planning Tips
Planning a winter wedding is an enchanting experience. As someone who recently tied the knot during the winter season, I can attest to the magic that this time of year can bring. While summer weddings are popular, there's something truly special about exchanging vows amidst the cozy ambiance and picturesque snow-covered scenery of winter. However, planning a winter wedding does require careful consideration. Here are some tips to help you plan the winter wedding of your dreams.
Do's:
Embrace the winter theme: Winter weddings provide the perfect opportunity to incorporate unique and beautiful elements that reflect the beauty of the season. Think snowflakes, evergreen branches, and pinecones to create a cozy and elegant atmosphere.

Think warm and cozy: With colder temperatures, it's important to ensure your guests feel comfortable and cozy. Offer hot drinks like cocoa, tea, or coffee, and consider providing blankets or shawls for your guests to wrap themselves in.

Consider an indoor ceremony and reception: With the unpredictability of winter weather, it's best to have a backup plan in case of inclement weather. Holding your ceremony and reception indoors will not only keep your guests warm but also provide peace of mind in case of snow or ice.

Opt for bold colors: While pastel shades may be popular in spring and summer weddings, winter weddings call for deep, rich hues like ruby reds, emerald greens, or navy blues. These colors add a cozy and warm feel to your wedding.
Don'ts:
Don't forget to prepare for the weather: Winter weather can be unpredictable, so it's important to prepare for any eventuality. Have a backup plan in case of snow or ice, and keep your guests informed of any changes.

Don't forget to layer: As a bride, it can be tempting to choose a dress that's beautiful but not practical for the winter weather. Remember to layer up with a shawl or cape to stay warm and comfortable.

Don't underestimate the cost: Winter weddings can be more expensive than weddings in other seasons. Be prepared to pay more for vendors, as they may have to travel in bad weather, and consider the cost of additional heating and lighting.

Don't forget to account for travel time: Winter weather can make travel challenging, so make sure to factor in extra time for your guests to get to your venue, especially if there is snow or ice on the roads.

Don't forget about the menu: Winter weddings provide the perfect opportunity to serve comfort foods like soup or stew. Don't forget to add a sweet touch with some hot cocoa and s'mores. And, once your big day is over, consider using your winter scene in your thank you cards to show your appreciation to your guests.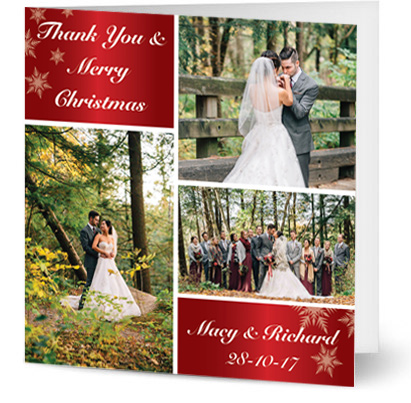 In the end, a winter wedding can be a beautiful and memorable experience. By incorporating these tips, you can ensure your big day is cozy, romantic, and perfect.